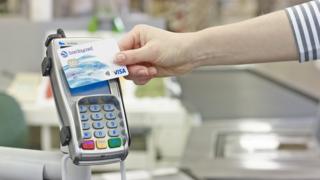 Credit card giant Visa is planning to declare war on cash by offering shops and restaurants a monetary incentive to go cashless.
Visa claims that preventing customers from paying in cash would make transactions more secure.
A switch from coins and notes to card payments or services such as Apple Pay would also benefit Visa, which makes money from transaction fees.
The company has begun a trial in the US, offering $10,000 (£8,800) to a select number of retailers that are prepared to update their payment terminals and stop accepting cash payments.
Its head of global merchant solutions Jack Forestell told The Telegraph that the company had its sights on a UK pilot too.
"We very much hope to bring a similar initiative to the UK in the near future," he said.
"The UK is a bit further ahead than the US in terms of contactless use and cashlessness, so the initiative may look different but watch this space."
Retailers would have to bid for the money by explaining how going cashless would affect them, their employees and customers.
Some consumer groups have warned it would put the elderly and those who rely on cash and cheques at a huge disadvantage.
Earlier this week, the British Retail Consortium's annual payment survey revealed that cards have overtaken cash to become the UK's top payment method for the first time – accounting for more than 50% of all retail transactions by volume last year.