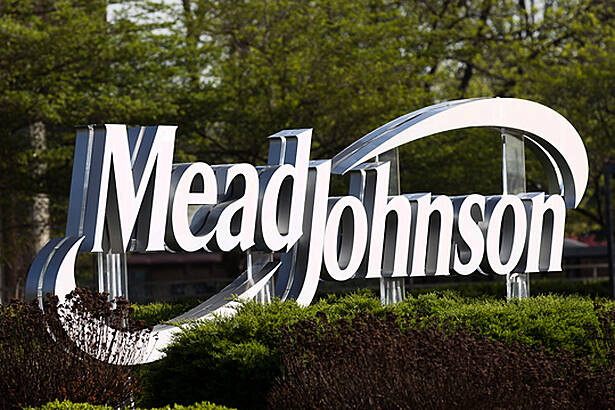 Reckitt Benckiser Group Plc emerged as a surprise suitor for perennial bid candidate Mead Johnson Nutrition Co., starting talks on a $16.7 billion purchase of the baby food maker to build its faster growing consumer-health business and bolster its presence in Asia.
The U.K.-based maker of Lysol cleaners said late Wednesday it's in advanced negotiations to acquire the U.S. company for $90 a share in cash, 29 percent above Mead Johnson's last closing price. Mead Johnson soared 24 percent to $86 in after-hours trading in the U.S., while Reckitt Benckiser shares rose as much as 3.9 percent in London.
Speculation that Nestle SA or French yogurt maker Danone could bid for Mead Johnson has been rife since the company went public in 2009, and talk resurfaced last month that the Swiss food company was considering an offer. Reckitt Benckiser is striking as Danone is busy trying to complete its $10 billion acquisition of organic food manufacturer WhiteWave Foods Co. Nestle, whose new chief executive officer just started last month, would face too many antitrust obstacles in such a transaction, analysts at RBC Europe have said.
"Reckitt's portfolio exposure to health, hygiene and home products presents a much cleaner takeout scenario when compared to antitrust issues which may otherwise arise in the case of a bid by a pure competitor to Mead," wrote John Baumgartner, an analyst at Wells Fargo. He said the offer price values the maker of Enfamil at 17 times earnings compared with multiples of 20 that Nestle paid for Pfizer's baby-formula unit in 2012 and 22 that Danone paid for baby-food maker Numico in 2007.
The acquisition would let Reckitt Benckiser add formula to a portfolio of consumer brands that includes Lysol cleaning products. CEO Rakesh Kapoor has held off on big deals in the past few years, though he's always been on the lookout, after telling Bloomberg News late in 2015 that he could be interested in Pfizer Inc.'s consumer-health unit.
Kapoor has turned more to over-the-counter health products, with brands such as Mucinex and Scholl, for growth, with the home and personal-care divisions expanding more slowly. Hygiene represents about 40 percent of Reckitt Benckiser's sales, compared with 33 percent for health. More recently, the company has been grappling with slowing growth in emerging markets and fallout from the sale of toxic disinfectant products in South Korea.
Shares of Glenview, Illinois-based Mead Johnson had fallen about 34 percent from their 2015 peak, hurt in part by a resurgence in interest in breastfeeding in countries such as China. With a 10 percent share of the baby-food market, the company trails Nestle and Danone globally, though it's second only to Nestle in Asia, the biggest market.
Infant Formula
Baby food will likely be one of Asia's fastest-growing food categories, even as the industry contends with near-term headwinds, Bloomberg Intelligence noted in December.
The category's growth in China might be hurt by smaller baby-food makers slashing prices over the coming year, according to the note. Over the long term, China's two-child policy will increase spending on formula while demand in Southeast Asian countries including Indonesia and Vietnam will also likely climb as more women enter the workforce, according to Bloomberg Intelligence.
In 2016, about half of Mead Johnson's total sales of $3.7 billion came from Asia.
The deal would be Reckitt Benckiser's biggest-ever acquisition, surpassing its purchase of Durex condom maker SSL International Plc for about 2.5 billion pounds ($3.2 billion) in 2010, according to data compiled by Bloomberg.
Reckitt Benckiser, based in Slough, England, would finance the deal with cash and debt. Mead Johnson confirmed the discussions in a separate statement, and both companies said there is no certainty that any transaction will ultimately be agreed on.