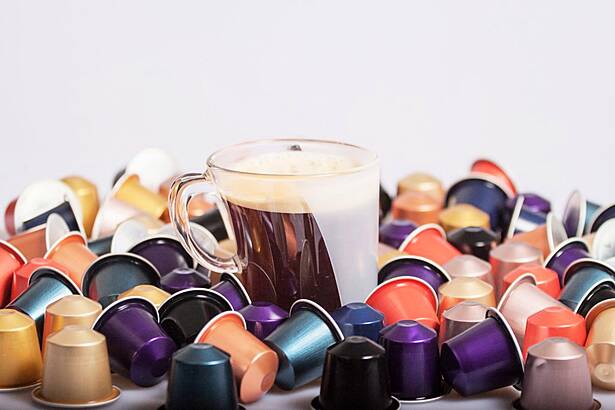 Nestle SA has begun selling Nespresso capsules outside its own retail outlets as it seeks to restart flagging growth of the coffee-making system amid a battle with cheaper knockoffs.
Germany's Saturn, MediaMarkt and Galeria Kaufhof chains are installing "N-Point" terminals in their stores, where shoppers can buy the pods that spit out coffee portions when slotted into Nespresso machines. While Nestle is retaining control over pricing, it's the first time the company has made the capsules available through third-party retailers, it said in an emailed response to questions.
"Such a project is to be seen positively, as a way for Nespresso to find new consumers," said Jean-Philippe Bertschy, an analyst at Bank Vontobel AG who estimated the brand's sales of coffee and machines at 5 billion Swiss francs ($5.2 billion) in 2016. "It's fully in line with one of Nestle's strategic pillars: sell the product whenever, wherever and however."
New Nestle Chief Executive Officer Mark Schneider has laid out a strategy of investing in businesses like coffee, water and pet food, which are growing more rapidly than chocolate and snacks. Nespresso, which has sold its capsules exclusively via its own boutiques, online store and telephone orders, has become one of the Swiss company's most profitable products since its launch three decades ago. But patents protecting the system have been expiring, and rivals producing cheaper pods that fit the same machines have eaten into the market Nestle created.
George Clooney
While Nespresso recently expanded the role of its longtime pitchman George Clooney to the U.S., it's losing momentum in western Europe, its core territory. In France, the biggest market, Nespresso's share of coffee in capsules slipped to about one-third of sales in 2016 from roughly half in 2007, according to Euromonitor.
In 2014, Nespresso reached an agreement with France's competition regulator to lift obstacles to makers of knockoff capsules, which proliferated as the more than 1,700 patents the company held in 2010 started to expire. While Nespresso has gained share in Germany, it may face more competition from JAB Holdings-owned Jacobs Douwe Egberts, which introduced Nespresso-compatible aluminum capsules there last month. Starbucks Corp. and Ethical Coffee Co. also sell pods that work with Nespresso machines.
At N-Points, customers can select capsules and obtain a ticket for pick-up at service counters in the stores. Orders are processed by Nespresso and prices are the same as in its own outlets.
For MediaMarkt and Saturn — consumer-electronics retailers that are preparing to split off from parent Metro AG into a new company called Ceconomy — the program provides a way to attract customers into stores at a time when pressure from e-commerce giant Amazon.com Inc. is mounting. Some of the stores, which already sell Nespresso machines, have also opened bars where customers can try the coffee.
"It is part of the experience we can provide as a stationary retailer," Ceconomy CEO Pieter Haas said in an interview. "The pilot project is off to a good start."
Metro, Kaufhof
Following tests at two stores owned by Metro and Galeria Kaufhof AG, Nespresso is rolling out the system more broadly, a spokeswoman for the coffee brand said by email. Haas said N Points are being installed at 27 Saturn and MediaMarkt stores in Germany.
The spokeswoman said an unspecified number of the terminals will also be installed at Galeria Kaufhof outlets. That company did not immediately respond to a request for comment.
Nestle suggested that other retail partners in Germany could follow if the program succeeds, though it's not clear whether the company is planning to expand it beyond that country.
"Nespresso aims to increase accessibility for customers," the spokeswoman said. "We will evaluate how this goes and then decide next steps."